Poul Henningsen Said: You Deserve The Best PH Lamps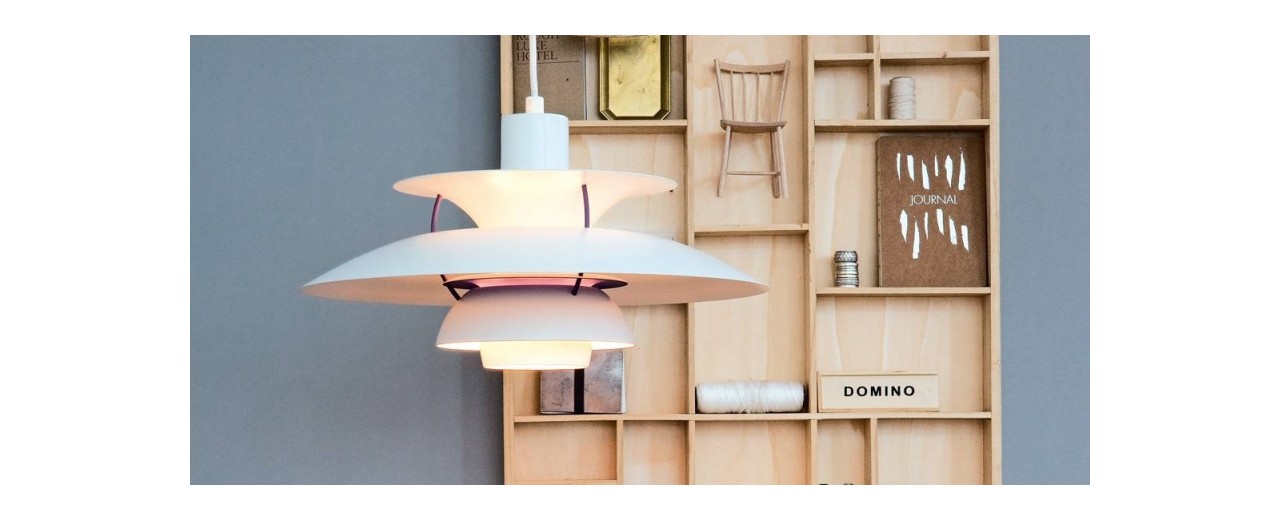 In the world of lights, you can't miss Poul Henningsen and his work. His contribution to lighting design has influenced many lighting designers. Now I will introduce you to Poul Henningsen and his best work.
Excellent lighting designer - Poul Henningsen
Paul Henningsen was born in Odrup in 1894, studied at schools in Copenhagen and Denmark, and became an independent architect in Copenhagen in 1920. But his most famous work was the multi-piece lampshade lamp designed by him in 1924, which was exhibited at the Paris International Exposition in 1925 and won the gold medal. These lamps are called "Paris lamps".
This kind of lamp later developed into the world-famous "PH" lamp series, which have been selling well so far. And "PH" is the abbreviation of Paul Henningson's name.
Taking the PH 3/2 pendant as an example, the characteristics of this PH lamp series are:
All the light of the PH 3/2 pendant replica must be reflected once to reach the working surface to obtain a soft and uniform lighting effect and avoid clear shadows.
No matter people look at the PH 3/2 pendant light from any angle, they cannot see the light source, so as to avoid glare irritating the eyes.
Compensate the spectrum of incandescent lamps to obtain suitable light colors.
When making a PH 3/2 pendant, the brightness of the edge of the lampshade should be reduced, and part of the light should be allowed to overflow to prevent the lamp from forming too much contrast with the dark background, causing eye discomfort.
The beautiful shape of PH lamps is formed by these characteristics.
PH Lamp Series
Now I'm going to introduce you to the PH series of lamps and I love that you can enjoy the beauty these lamps bring to you.
1. PH 5 Pendant
PH 5 pendant is a work designed by Danish designer Poul Henningsen in 1958 and produced by the famous Danish lighting manufacturer Louis Poulsen. More than 60 years later, the replica PH 5 pendant lamp is still the classic production of lighting design in the world. 
PH 5 pendant, named after the maximum diameter of the lampshade is 50cm. It has more than a dozen colors (such as classic white, copper, hues of orange, hues of red, black, etc.), which can adapt to the decoration style of different main colors. For example, the midnight grey PH 5 pendant can be placed in the interior of a modern minimalist decoration style, and the tins green PH 5 lampe replica is very suitable for placing in the garden.
And PH 5 pendant replica looks like a pine tree, very cute and suitable for people of different age groups. For example, the hues of pink PH 5 pendant light replica is very suitable for girls, and the inks blue louis poulsen PH 5 replica is very suitable for a middle-aged male.
If you want to use this PH 5 pendant in small places, we also have PH 5 mini pendant for you. This light comes in many colors (such as brass and monochrome Blue, etc.) and can be used in different places. For example, classic white PH 5 mini replica can be placed in the living room, and hues of orange PH 5 mini pendant can be placed in the dining room.
2. PH 4/3 Lamp
PH 4/3 lamp series include PH 4/3 pendant and PH 4/3 table lamp. Although this series of lamps does not have as many colors and sizes as other models, its design concept and craftsmanship make it impossible to ignore it.
2.1 PH 4/3 Pendant
The Louis Poulsen PH 4/3 pendant is only available in white, but that doesn't detract from its craftsmanship, which has the metal shade of the original fixture. PH 4/3 pendant is currently the only pendant light in the PH lamp series with an all-metal configuration.
PH 4/3 lamp replicas use three types of reflective shades that can place the light source on the screw shaft. This lamp focuses most of its light downward, and its white finish helps promote even light spread.
2.2 PH 4/3 Table Lamp
The PH 4/3 table lamp is only one of the three PH table lamps currently in production, and it is also the only table lamp that adheres to the original metal lampshade composition. Its base and stem have a modern chrome finish. What makes this louis poulsen PH 4/3 table lamp unique is that it has a distinctive black bakelite triangle that sits directly above the light.
I recommend you to use PH 4/3 table lamp replica in the office, it can bring you a sense of tranquility and is beneficial to your work.
3. PH 3/2 Lamp
The PH 3/2 lampa series includes PH 3/2 pendant lamps, PH 3/2 table lamps, and PH 3/2 wall lamps.
PH 3/2 lamp was designed by Poul Henningsen in the mid-1920s. Poul Henningsen used a logarithmic spiral as a template to turn the metal shade towards the glass shade, so the light distribution becomes more uniform and more extensible. By the way, the numbering series of this light refers to the shade size combination (3=30cm, etc.).
3.1 PH 3/2 Pendant
PH 3/2 pendants are mainly made of metal, glass and stainless steel. The hanging PH 3/2 pendant replica is like a flower hanging upside down above you, it is very beautiful.
And the metal shade of this PH 3/2 lamp replica is artificially painted to ensure even and comfortable light distribution. Poul Henningsen is committed to creating glare-free lighting, so the soft light of these lamps is aimed where it's needed most.
3.2 PH 3/2 Table Lamp
The PH 3/2 table lamp replica is a very elegant modern-style table lamp. This lamp consists of three reflective screens that direct most of the light downwards. Its light will not hurt your eyes and it will illuminate your interior in a very safe way. And because of its ingenious design and processing (such as its polished bottom), the light of the PH 3/2 table lamp is evenly distributed in each room. You can purchase such a lamp for your child's room.
3.3 PH 3/2 Wall Lamp
This PH 3/2 wall lamp is definitely the best light in your room. This PH 3/2 table lamp replica is available to you in two colors. Especially the black version of the table lamp, which is made of solid steel and has a matte white interior for enhanced reflective performance.
Ph lamps have always been imitated by lighting designers and manufacturers. And PH artichoke pendant is no exception. Shaped like a lush tree, this lamp provides some natural elegance to your surroundings.
This PH artichoke pendant comes in many colors, but either color is very elegant and you deserve it. Several colors of this pendant lamp replica are very elegant, such as the gold one, if you put it in the living room or some place where you need to entertain guests, this PH artichoke pendant replica is perfect.
PH artichoke pendant is available in several sizes, whether you have a large or small interior space, the different sizes of this lamp are perfect for you. You can even combine several PH lamps of different sizes in one room to turn them into works of art.
5. PH 3 ½ - 2 ½ Floor Lamp
PH 3 ½ - 2 ½ floor lamp is best for use in areas such as living rooms and offices. why? Because this floor lamp is an ultra-thin waiting session. PH 3 ½ - 2 ½ floor lamp replica is made with streamlined light poles. And it features a three-layer hand-blown opal glass diffuser that creates a unique light that gives your interior a warm and unique lighting experience.
This PH 3 ½ - 2 ½ floor lamp is available in white and gold, you can use the gold one in the office and the white one in the living room. You can also combine PH 3 ½ - 2 ½ floor lamp replica with other table lamps or pendant lamps.
6. PH Snowball Pendant Lamp
This PH snowball pendant lamp was first shown at the museum in 1958, but unfortunately this snowball-shaped lamp was not popular at the time. But now more and more people understand its beauty. When you turn on the PH snowball pendant lamp replica, you will find that only the top of the lamp is lit, and the rest of the light slowly pours down the lamp, and will not directly shine on people's eyes.
Although PH snowball pendant lamp is only available in white, it does not diminish people's love for it. In long winter days, this pendant lamp replica is perfect for you who are indoors for leisure.
The design of PH lamp series, is very classic and beautiful. And the manufacturers use very good quality materials to make these lights. You can use these PH lamp replicas in your home for a long time. Or give the PH lamp to someone as a gift. With so many lamps in this PH lamp series, what are you waiting for? Come and choose!
If you want to know more about other designers and their lighting works, you can click on our website, you will definitely have what you want.
Related posts

If you are ready to make your home lighting look more creative and eye-catching, don't miss...