Best Price Of Pier Giacomo Castiglion Lamp Replica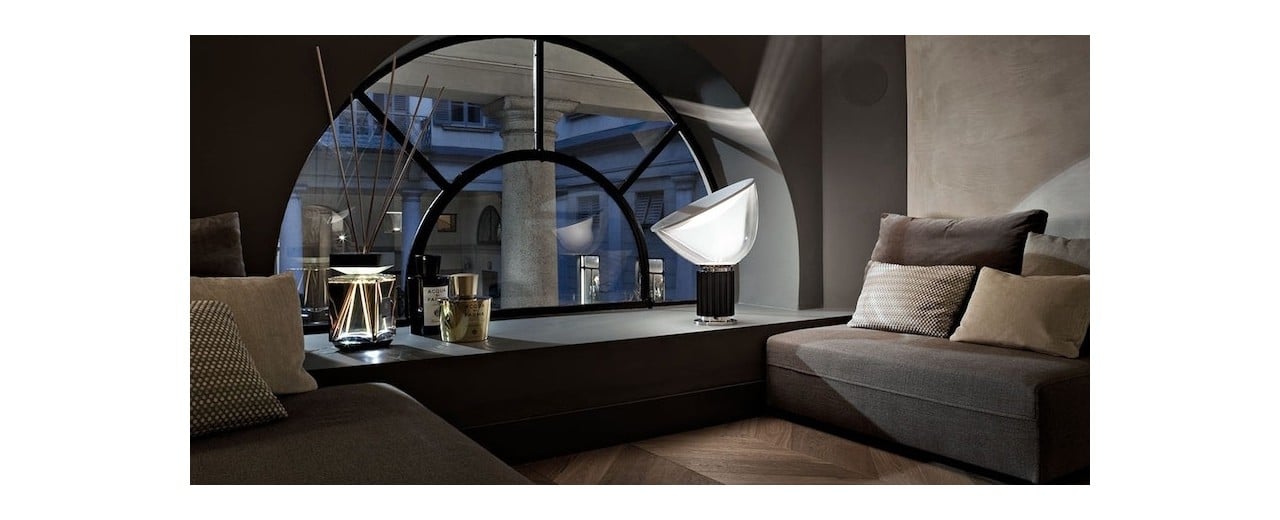 There are many famous lighting designers in Italy, one of them is Pier Giacomo Castiglioni. The lamp he created is very special, maybe you have seen it!
Pier Giacomo Castiglioni (1913-1968) designed many lights and other objects throughout his life. Not only are his lamps exhibited in museums and galleries around the world (such as the Vitra Design Museum in Germany and the Museum of Modern Art in New York, etc.), they are also very popular in the antique market.
The lamps designed by Pier Giacomo Castiglioni are unique and cute, so he has also won many awards, for example, nine Compasso d´Oro awards.
Without further ado, I will introduce you to the lighting features and lamps designed by designer Pier Giacomo Castiglioni.
Pier Giacomo Castiglioni and his brother both believe that the design of the lamp is not just a shape, but can add some objects to the world, and the lamp exists out of a real need.
In order to make it easier for you to understand, I will explain to you by taking the Taccia table lamp replica as an example.
The shape of the lamp is simple and bold, with a modern style.
Flos Taccia table lamp replica is very "simple". When making lamps, designers focus on retaining important things and discarding useless things.
Manufactured with high-quality materials to ensure the lamp's long-lasting durability.
The shape of the lamp always gives people a sense of humor.
Pier Giacomo Castiglioni Lamp
I will choose a few good lamps to share with you. Through my explanation, I hope it will be helpful to your idea of lamp selection. Let's do it together!
This Taccia table lamp replica is one of my go-to lamps to recommend to you. We have many words to describe Flos Taccia kopia: unique, minimalist, durable, adjustable, versatile, etc. Next, I'll tell you about how great this lamp is based on these words.
Unique shape: As you can see, this Taccia table lamp replica is shaped like a miniature satellite dish, you can also say Flos Taccia klein looks like a very large bowl, you can even say Flos Taccia tischleuchte looks like an upside-down lamp. The Taccia table lamp replicas designed by Pier Giacomo Castiglioni are always surprising.
Minimalist style: This Taccia table lamp replica is simple and tasteful. The designer simplified the design elements and colors of the lamp, but he had very high requirements for the color and texture of the Taccia lamp replica.
Durable to last: The cylindrical base of the Flos Taccia table lamp replica is made of aluminum for durability.
Adjustable: The diffuser of the Taccia table lamp replica is made of clear blown glass, you can move it to change the direction of the light.
Versatile: The Flos Taccia kopia comes in three colors, black, silver and bronze. The three colors of lights each have two sizes, Taccia small table lamp and Flos Taccia big.
There are so many benefits of this Taccia table lamp replica that I can't tell you about it in detail. If you like or are interested in this lamp, you can contact us.
Snoopy table lamp replica, when you hear this name, do you think of the cartoon character Snoopy? Yes, this Flos tischleuchte snoopy is inspired by Snoopy. This lamp looks very cute.
The lovely shape of this Snoopy table lamp replica makes people feel happy when they look at the light. The original Flos Snoopy kopia was unveiled in 1967, but the current version was relaunched in 2003. Of course, the production technology of this lamp has also been updated.
The kids will love the Snoopy table lamp replica and want to keep it in their bedroom. But the material of Flos Snoopy tafellamp makes it look very elegant, making Flos Snoopy replica perfect for a living room, office or dining room.
Own a Snoopy table lamp replica and love it!
Do you like table lamps that look like hot air balloons? If you like it, then the Gatto table lamp replica is born for you. If you don't like it, please enjoy this lamp with me, you will love it.
The Gatto table lamp replica is named after the Italian word for "cat". This Flos Gatto kopia is very like a quiet cat lying on the table, which makes people feel very peaceful and comfortable. The Flos Gatto grande is mainly made of cocoon and steel, and it has a steel frame inside to shape the look. A thin, slightly transparent material is used for the diffuser of the Gatto table lamp replica, which filters the light in a softer and smoother way.
Gatto table lamp replica comes in two styles, Flos Gatto small and Flos Gatto large. Flos Gatto small can be placed in the living room or bedroom. You can use Flos Gatto large as a floor lamp to add a touch of elegance to your interior.
We will provide wires, which can be extended according to your needs, and switch sockets.
The Arco floor lamp replica is so good that it has become part of the permanent collection of the Museum of Modern Art in New York. Arco floor lamp was designed by Pier Giacomo Castiglioni in 1926 and is a classic modern design style lamp.
This Arco floor lamp replica is also called a parabolic lamp because of its shape. The designer's original intention was to create a floor lamp that could illuminate the table, and considering the convenience of using the table, he hoped that the lamp could be farther away from the table. After seeing the street lamp, Pier Giacomo Castiglioni had a design idea, and then the Flos Arco floor lamp was manufactured.
The Flos Arco lamp is constructed with a solid marble base, arched metal arms and adjustable reflectors. It is worth noting that the corners of this marble base are beveled. Designers hope that people will not be injured if they accidentally kick it. Moreover, if you look closely, you'll notice there's a round hole in the base of the Arco floor lamp replica. why? If one wants to lift it, a stick can be inserted into the round hole. What a thoughtful and convenient light!
Arco floor lamp replica has been hailed as a "truly inspired piece of design". It is said that this lamp is placed in the living room of British Prime Minister Cameron.
This Toio floor lamp replica is a classic of Italian lighting. The cool-looking lights are very eye-catching.
This industrial-style Toio floor lamp replica just reflects Pier Giacomo Castiglioni's design idea, which is to "use existing industrial products for design". This Toio floor Torchiere is still not out of date this year. The wire for this light uses a fishing line loop, and it's fastened to a metal pole. You can adjust the height of the light by simply adjusting the length of the wires. This sounds like a very simple operation.
The height of this Toio floor lamp replica is adjustable, so you can use it in many rooms, such as living room, bedroom or studio. And the surface of Flos floor lamp Toio is not facing down, but facing the ceiling, so the light will not directly enter the eyes of people.
Toio floor Torchiere is also part of a permanent collection at the Museum of Modern Art, New York. Also, the Toio floor lamp replica has a matte black version of the lamp, and... Yes! That matte black version of the light is a limited edition!
The shape of this Taraxacum suspension replica is even more unique. When you look at Taraxacum suspension from a distance, you will feel that this lamp is made of a piece of paper, which can be broken when you poke it with your finger.
But in fact, this Taraxacum suspension replica is not so easy to rot, because the material used to make the lamp is very good. The lampshade is made of white cocoon resin. Speaking professionally, Taraxacum suspension light is made: a white powder-coated internal steel structure is sprayed with a unique "cocoon" resin to form a diffuser, which is protected by a clear sprayed surface.
I recommend you to use the Taraxacum suspension replica in your living room or dining room. The suspension light comes in two sizes, you can use the small one in the living room and the larger one in the dining room.
The feeling this Splugen Brau pendant replica gives people is: I have a silver bowl, how happy I am!
But there are also many people who feel that the Flos Splugen Brau pendant is like a hive, giving people a sense of hard work and power. This shape of the lamp reflects Pier Giacomo Castiglioni's interesting design.
The interior and exterior of the Splugen Brau pendant replica are highly polished to give the corrugated aluminum shade a water ripple-like effect. The aluminum body of this light helps dissipate heat. And this lamp silver dome bulb provides gentle but concentrated light.
This stylish Splugen Brau pendant lamp is perfect for placing above the dining table, in the library or in the studio, creating an atmosphere of work and study.
There are many good lights in Pier Giacomo Castiglioni, such as Taccia table lamp replica, Snoopy table lamp replica, Gatto table lamp replica and so on. These lights are very worth your purchase.
I have a lot of good lights I want to share with you, if you want to know, you can click on our website.
Related posts

Modern life is getting more and more busy, and everyone is eager to have a comfortable...