You Know You'll Have Vico Magistretti's Best Atollo Table Lamp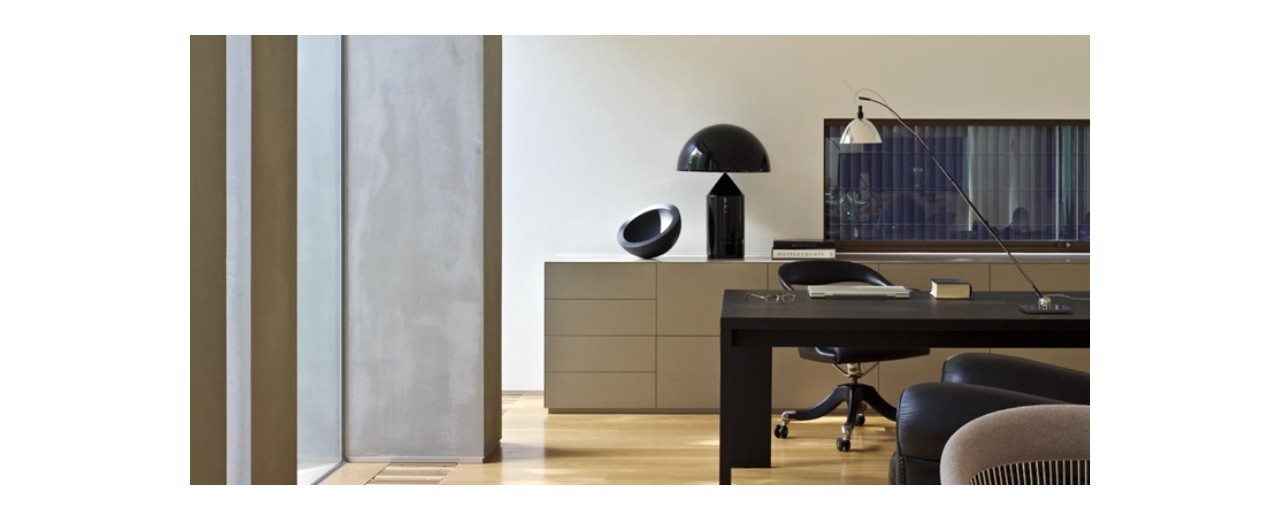 Many Italians or lighting designers know Vico Magistretti (1920-2006). Vico Magistretti is recognized as one of the founders of mid-20th century Italian design, and his designs are elegant and logical.
Vico Magistretti was born in Milan. In the 1950s he began to work in the field of mass production of furniture and lamps. Vico Magistretti, who is considered to be a design ambassador, has won many awards, such as the Gold Medal at the 1951 Triennale, the Grand Prix at the 1954 Triennale, and two Compasso d'Oro awards in the years 1967 and 1979, etc.
Throughout his life as a designer, Vico Magistretti has always focused on the simplicity of the product. He has a design philosophy of "less is more". So his work has always been popular and you can see his products in Italy or other parts of Europe. You can even see his work in museums!
I will take the Atollo table lamp as an example. From my description, you can know what the features of Vico Magistretti's design are.
This Atollo table lamp has a simple design. The designer pays attention to the functionality of the lamp and the rational feeling it brings to people.
When designing and manufacturing lamps, people should try to get rid of the superfluous things and show the true nature of the objects.
Whether crafting products using traditional or novel materials, it perfectly combines new technologies with a sculptural formal language to create contemporary design products with a timeless appeal.
The Atollo table lamp replica should reflect the solution to daily life and work problems, rather than the short-term business culture of "high quality and low price".
You can see Vico Magistretti's rich imagination from his works. These products also reflect the elegance and romance of the Italians.
Vico Magistretti Lamps
Next, I will tell you about several of Vico Magistretti's classic lamps, please listen to me and appreciate the beauty of these lamps.
This classic Atollo table lamp replica is unforgettable. It is a lamp consisting of cylinders, cones and hemispheres. So the lamp has a mushroom-shaped appearance. Atollo lamp kopen is made of metal, therefore, this light has a smooth appearance and reflects the exquisite craftsmanship of making the lamp.
This lamp has three sizes, and Atollo table lamp replicas are available in five styles, Atollo gold lamp replica, Atollo lamp bronze, Atollo lamp replica white, matt black Atollo lamp and bright black Atollo lamp.
You can use Oluce Atollo lamp replicas in any interior decoration style. Because this lamp comes in a variety of styles, you don't have to worry about whether or not this light will match your interior's main color.
The design and manufacture of this stylish lamp deserve admiration. When you light an Atollo table lamp replica, you'll find its light source hidden in shadow, casting a warm beam of light downward. This kind of light makes people feel very warm, so Atollo bedside lamp replicas are often used as bedside lamps. But this bedside lamp subverts the classic image of the previous bedside lamp, standing next to the bed with a more interesting and innovative image.
The current Atollo table lamp replica has been improved and has been presented to us in a simpler way:
The latest remote stepless dimming Atollo lamp zwart allows you to adjust the light source at will without being restricted by the location.
You have a choice of three color temperatures (warm light, daylight and cool light).
You can adjust the light intensity.
The cord can be extended according to your needs.
The Atollo table lamp replica has become one of the icons of Italian design and is one of your first choices for buying a table lamp.
Why don't you bring Atollo lamp cheap home? It must be for you.
The eclisse table lamp replica designed by Vico Magistretti is very famous. And the lamp has become a permanent collection in many museums around the world. why? I will tell you.
Eclisse won the Golden Compass in 1967 and became a global ambassador for Italian design. Eclisse is an avant-garde balance between form and function, design and practicality. Vico Magistretti's design idea is that you can adjust the intensity of the light by "masking" the rotating inner shadow of the light source. However, by looking at the operation of the eclisse lampada, you can tell that the eclisse table lamp replica can provide direct or diffuse light through a fixed outer casing and a movable inner casing.
From the above description, you already know why this eclisse table lamp replica is called this name: eclisse is the Italian word for eclipse. With a curved, rotating shutter, anyone can control the direction and intensity of light. You can even create a beautiful "corona" by closing the shutter completely.
The eclisse lamp is round and small enough that anyone can use it. The solid paint that makes the lamp contains only up to 5% solvent, so eclisse light produces very little waste making it an environmentally friendly product.
Eclisse table lamp replica comes in six colors such as white, black and gold, etc. You can choose different colors of lights according to your preference.
3. Oluce Lyndon Lampa
Lyndon is a project created by designer Vico Magistretti in 1977. This project includes floor lamps, wall lamps, etc. Now let me introduce you to Lyndon outdoor wall sconce, Lyndon outdoor floor lamp and Lyndon pendant.
Oluce Lyndon outdoor wall lampa replica still shows Vico Magistretti's love of geometric shapes.
The Oluce Lyndon outdoor wall lamp has a vertical rod made of chromed and painted metal. This stem of the wall lamp extends upwards with a single curved arm that is attached to a clear polycarbonate sphere. The bulb of the wall light is held in a ring near the top of the rod. This design of the Lyndon outdoor wall sconce reduces glare to the sides and makes the surroundings feel more elegant.
This Oluce Lyndon outdoor floor lampa replica enlivens the surrounding environment, and when you turn on the lamp, you are in a warm environment.
Designer Vico Magistretti paid great attention to the perfect shape and layered arrangement of the lamp's polycarbonate spheres. So when people turn on this light, it immediately catches the eye.
Imagine a scenario: dusk falls and you are strolling in the garden. This is why Vico Magistretti designed this Oluce Lyndon outdoor floor lampa replica, and this scene is also what the designer wanted.
If you want to use Oluce Lyndon lampa indoors, the Oluce Lyndon pendant replica is your best choice. Oluce Lyndon pendant not only provides you with lighting, but also enhances the atmosphere of your environment. This lamp is suitable for use in the interior decoration style of simple European style, classical European style or modern minimalist style.
You can put the Oluce Lyndon pendant replica in the dining room or in the hallway and it will give you beauty. This pendant light has UL certification, and the quality is guaranteed.
4. Lampada Sonora Oluce
In this part, we have Sonora metal pendant replica and Sonora glass pendant replica. The designs of these lamps are very bold and simple, and are considered to be one of the most studied and valuable Vico Magistretti designs. I hope you will like these lights.
The Sonora metal pendant replica consists of a thin wire and dome-shaped metal shade. Thin lines hanging from the ceiling connect to the glossy, shiny shades to make a very simple lamp. However, its design process is not simple, including design concepts, elegant arc-shaped lampshades, etc., all of which are very demanding.
This Sonora metal pendant replica is available in five colors (such as black, gold, etc.) and four sizes, therefore, you can use the suspension light in a small room or living room. It should be noted that this Sonora metal pendant replica is not suitable for outdoor use. If you want to use the outdoor lights designed by Vico Magistretti, you can consider the lights I introduced to you above.
Through these introductions above, you probably know what the shape of this Sonora glass pendant replica looks like: a bit like a semicircle shape. The lamp's dome-shaped profile shade is made of hand-blown glass, so when people light this suspension light, it gives a very beautiful glow.
Sonora glass pendant replica comes in only two sizes and you can use it indoors. This pendant light is perfect for hanging above the dining table and it gives you plenty of light.
This light is also not suitable for outdoor use.
This is the introduction to designer Vico Magistretti and his main works. If you want to know more about Vico Magistretti lampa, please click on our website. And if you want to buy Atollo table lamp replica, please feel free to contact us.
Related posts

If you are ready to make your home lighting look more creative and eye-catching, don't miss...