How to choose a new home gift for a friend? Just choose these 5 lamps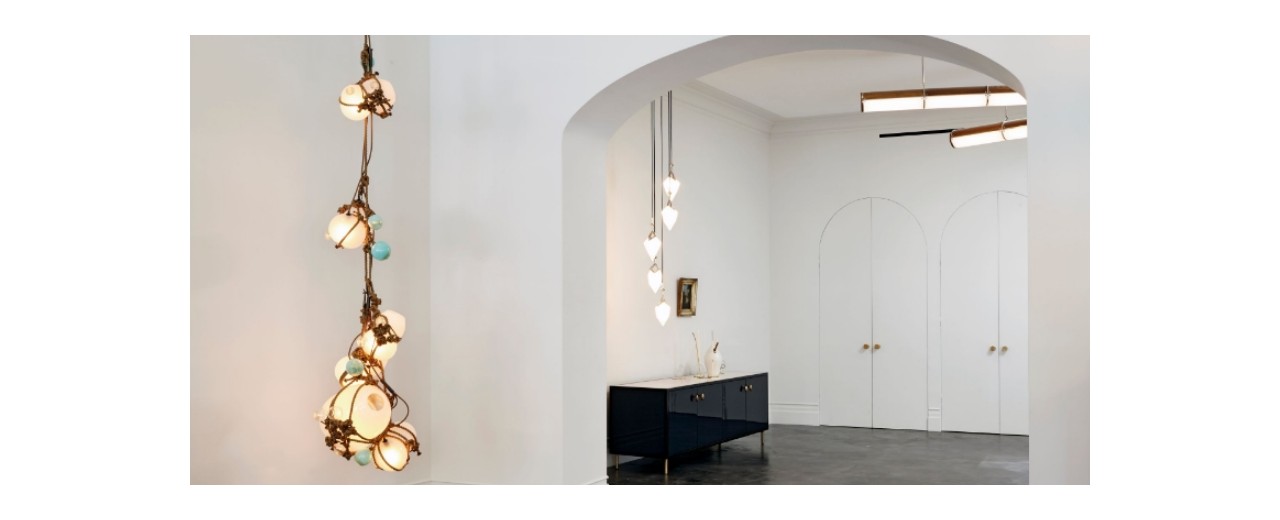 Friends move to a new house, don't know what to give as a housewarming gift? After reading this article you will have the answer.
A "lamp" is a must-have item for every household moving into a new home. Send a unique lamp, both practical and artistic, to enhance the happiness of life for your friends.
Today, I recommend these 5 original lamps designed by Lindsey Adelman. You will be deeply in love with them at a glance, and may bring some inspiration to your "gift selection journey".
Lindsey Adelman, famous American designer. Her vine-like fringed wall lamps and branch-blown glass "bubble" chandeliers have taken the world by storm, and the distinctive taste in her work is unforgettable.
Seduced by light, she is obsessed with maximizing the sensual effects of light and highlighting the vanishing and emptiness of beauty, capturing the fleeting beauty of nature as her own creative style.
The Lindsey Adelman design team insists on designing each lamp themselves, with design, fabrication and even glass blowing done by hand. Her designs are known for being fun and functional.
High-quality lamp design has not only become a must-have for home lighting, but each lamp is a unique collection in the world. Her designs are undoubtedly perfect for gifts.
Cherry Bomb Fringe's original design was inspired by the form of trees blooming in spring, with the short-lived pink flowers contrasting with the gnarly dark trees in an obsessive and regrettable contrast.
Lindsey extended this regret to the design of the lamps. Delicate metal tassels dangle from the frame, and small orbs hang from slender metal branches, giving off a soft, warm glow.
The functions of art and lighting are wonderfully integrated. Looking from a distance, you can be attracted by the unique beauty revealed by the lights. Whether it is used for living room lighting or study lighting, it can add a piece to the home. Textured natural beauty.
The Branching Bubble Molecular Light, also known as Irregular Molecular Light or Chandelier.
This lamp is a classic masterpiece of its brand aesthetics. The dark bracket made of brass metal and the bud-like light bulb can be matched with different colors such as transparent, lake blue, soot, cognac and so on according to the needs of users. The light bulb perfectly integrates the invisible nature into the tangible artistic aesthetics.
The dark brackets imitate the natural branch-like arrangement, and the simple lines add a sense of layering and smoothness. With a glass ball, it spreads on the ceiling like a cherry blossom in season. It is elegant and light, and it is very suitable for modern minimalist, industrial style and Nordic style decoration styles.
Longitudinal lights are suitable for interspersed in the stairs or placed next to the stairs. The wonderful sense of space played by the lines can increase the depth of the floor, giving people a mysterious and wonderful feeling.
Whether used as a hall light or bedroom lighting, it's easy to handle. If you use it as a restaurant light, the warm light like spring flowers shines on the food, and you can have a full sense of happiness when you eat.
Giving this lamp full of structural creativity and beauty as a gift to a friend is equivalent to giving a perfect combination of nature and art.
On a lightly seaside afternoon, Lindsey saw a buoy bobbing with the waves, seaweed tangled carelessly on rough ropes. This gave her the fantastic inspiration to design this sculptural lamp called Knotty Bubbles.
Hand-blown glass "bubbles" like seaweed wrap around buoys, bundled into a knotted hemp hammock, with smaller barnacle-like bubbles hanging from the edges. The dangling glass sphere resembles a fragile foam in the sun, giving a sense of capturing the fleeting beauty.
The exclusive handcrafting makes each lamp have particularly exquisite details, and the tangled seemingly random bundles make the lamp look ever-changing, like drifting endlessly on the sea. For those who are in pursuit of individual fashion or who have the same experience of wandering in society, this lamp with a unique aesthetic will surely hit their hearts.
Globe Burst is an elegant large chandelier available in different Globe shades with glossy black fittings. In the daytime, the mirror surface of the sphere can perfectly reflect the natural light. When the light is turned on, the multiple internal reflections of the light emit a warm glow, which outlines the charm of light and shadow.
The inspiration for the design comes from the thorny stems and delicate blooming flowers of Japanese flower arrangements, but from a distance it looks like an elegant and sharp starburst galaxy, becoming a dazzling presence in the vast sea of stars.
Interrupted by hand-blown glass pegs and "barnacles", the glass bubbles bring together the contradictions of harmony and opposition, interpreting the timeless pursuit of the purest form with different geometric shapes.
Hand-blown glass bulbs alternate with glass pegs, adorned with tiny bee stinger-like protrusions around the perimeter. Turning on the light seems to have ignited the dark stamens in the lamp, emitting a vibrant light, which is amazing and extremely eye-catching.
Globe Burst Chandelier can enhance the atmosphere of space and enhance the level of visual aesthetics. It is suitable for lighting in large spaces, such as hall lights, restaurant lights, etc.
Paradise is a sprawling sculptural cascading textured sphere of large-link brass chain, with slender polished pins adding a menacing allure, while the heavy chain makes its lighting more subtle. Pink and amber tones paired with clear-textured glass are as elegant as a necklace dangling and give a wandering sense of wanderlust.
Intricately textured glass spheres mix with brass curb chains and metal-edged clusters, and oversized jewel-like rings hang gracefully from the ceiling. Shaken, perforated and illuminated, these elaborate elements create an unexpected collision of luxurious indulgence.
If you are struggling with what kind of lamps to choose as a gift for your new home, why don't you take a look at this one!
The combination of this lamp is more free, it can shuttle freely in the open staircase, dance on the ceiling, or stay on the wall for a while, reminiscent of the fun of wandering. With a unique aesthetic language, the word gorgeous is redrawn, and elegance is revealed in the light and luxury style.
Gifts have nothing to do with value, and the blessings they entrust are more important.
These 5 lamps can solve the difficulty of your choice, let the "quality" of the lamp be a gift for your new home!
Related posts

If you are ready to make your home lighting look more creative and eye-catching, don't miss...