Best Gino Sarfatti's 2097 Chandelier Replica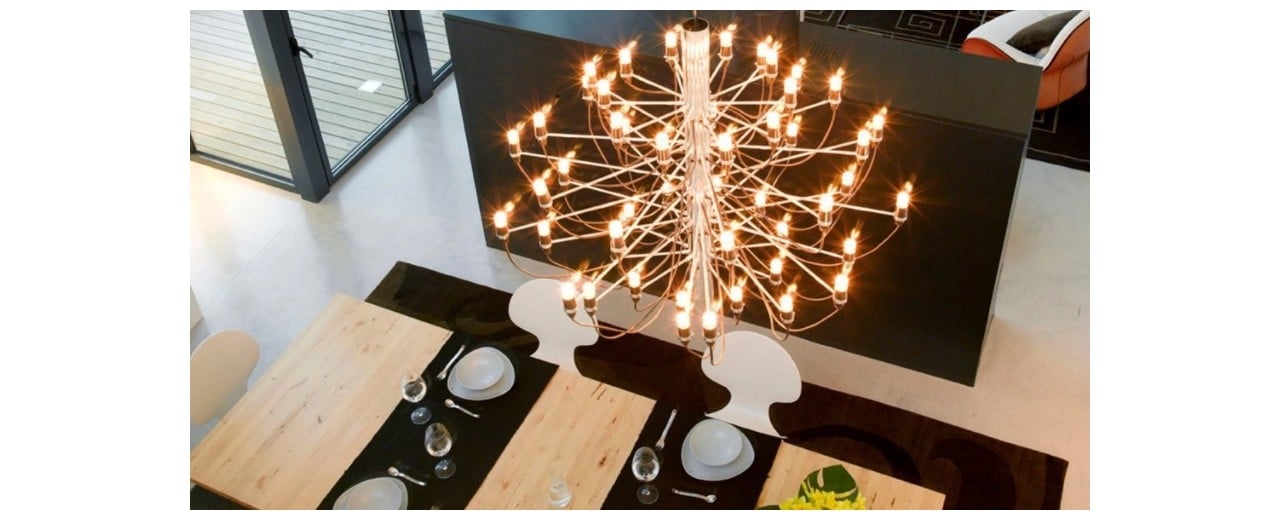 After World War II, the world has yet to recover. If there are any unforgettable lamps in the lighting industry, one of them must be Gino Sarfatti and his lamps. The most famous of his products is 2097 chandelier. Why? I will tell you.
Gino Sarfatti (1912-1985) was an Italian designer and entrepreneur. He learned the craft of lighting design while working in Milan, and he defines his commitment as rational lighting. Such commitments are very rare. In order to meet the market demand, many lighting designers usually make the lights too complicated or too simple. These lights are very impractical and not beautiful. Since Gino Sarfatti founded the company, he has been researching and making good lighting fixtures and lighting applications.
Gino Sarfatti has also paired his own creations with household items and accessories. What a very "practical" designer! He won the Golden Compass in both 1954 and 1955. During his 30-year career, Gino Sarfatti has designed and produced more than 400 lighting fixtures and remained at the forefront of innovation in fields related to production technology, technical lighting effects and design. He was also the first person to use a halogen light bulb. What a great lighting designer!
The lamps he designed had no names at first, only numbers to identify them. One of his round lampshades, for example, is called the 2072 or "yo-yo," and the 2076 or "fireworks." However, these number-named lamps are also one of the characteristics of his works.
In addition to the characteristics of the number name, taking the 2097 chandelier as an example, other characteristics of Gino Sarfatti's lamps are:
Horizontal and vertical with many winding upward lines.
The replica flos 2097 chandelier embodies the hope that the world will be prosperous after World War II.
People can feel a positive and optimistic attitude from his works.
Now I'm going to talk about Gino Sarfatti's very classic lighting—flos lampa 2097 kopia, the classic products of the Flos brand. I hope you like it.
You've probably seen quite a few chandeliers, either intricate or gorgeous. However, none of these lamps can compare with Gino Sarfatti chandeliers. Because the design of Gino Sarfatti flos 2097 zwart is very influential, it represents the mature stage of Gino Sarfatti's work in his whole life.
The 2097/18 chandelier replica is composed of a cylindrical metal body and bulbs. Can you guess how many bulbs there are? Yes, 18 bulbs. The 18 bulbs surround a cylindrical metal body, and the bulb's power cord is not hidden. The design of this 2097/18 chandelier is very bold, enough to show designer Gino Sarfatti's confidence in this lamp. You can see from this 2097 chandelier replica that these power cords are very "free", which may be one of the characteristics of this chandelier.
2097/18 chandelier combines the style of a traditional chandelier, 1950s modernism and a minimalist industrial aesthetic. So whether your interior decoration style is modern minimalist or simple European style, you can use this 2097 chandelier replica. And you can also use this elegant lamp as a decoration with other classic or modern style items.
Without further ado, you will surely guess why 2097/30 chandelier is called this name. Yes, this 2097/30 chandelier replica has 30 bulbs. So many bulbs, but the designer Gino Sarfatti and the manufacturer are still very careful with the details. The wires connecting the bulbs are not placed very randomly. The light bulbs, still facing upwards, seem to give people a feeling of optimism.
This 2097/30 chandelier gives you three colors, blue and yellow. The flos 2097/30 black is very classic and formal, so I recommend you to use this chandelier in a company or office area. This light will give you a sense of solemnness. The gold flos 2097 lamp gives a gorgeous feel and is perfect for hanging in a room where you need to entertain guests or a gorgeous room. With a light bulb that can emit light, the 2097 chandelier replica hanging from the ceiling is really beautiful. The silver flos 2097/30 kopia is perfect for you to give it as a gift. The 2097/30 chandelier with 30 bulbs can show your sincerity.
However, it should be noted that this 2097 chandelier replica is not suitable for outdoor use, perhaps because it is too "shiny". 2097/30 chandelier is only suitable for indoor use!
This 2097/50 chandelier will definitely amaze you! This chandelier is like a dense tree. When you light up, it seems like a bunch of beating firelight. 50 bulbs are attached to the light, but so many bulbs don't make you feel cluttered. This flos 2097 zwart still retains the design concept of designer Gino Sarfatti (the purpose of lights is to illuminate). When you walk into the interior, you will find that the amazing 50 lamps of flos 2097/50 replicas can definitely provide enough lighting for your interior. And such a beautiful 2097/50 chandelier replica quickly grabs everyone's attention.
2097/50 chandelier comes in three sizes, so you can use it in many places. The 2097 chandelier replica can be installed in very large rooms or halls, so you can put it in a hotel, or you can put it in a room with a high ceiling. The small replica 2097 suspension lamp can be placed in a small space, that is, you can enjoy the light brought by such a lamp with a sufficient light source at home. The light from the 2097 suspension lamp replica with so many bulbs is very soft and not dazzling, so you can also install this chandelier in the rest area.
2097/50 chandelier is uniquely designed and well made, so you don't have to worry about this lamp going bad in a short time. If you want to buy a lamp with enough light source and durable for you or others, then 2097 chandelier replica is a good choice for you.
If you would like to learn more about flos 2097 replica, and if you want to browse more beautiful and practical lamps and lighting designer stories, you are welcome to click on our website.
Related posts

Modern life is getting more and more busy, and everyone is eager to have a comfortable...